UNIDENT FAMILY DENTISTRY
A Practice of Friendly, Caring, and Professional Doctors and Staff
Welcome to UNIDENT Family Dentistry! We are conveniently located between Gessner Road and Westpark Road at 3730 S. Gessner Road, Suite C-100, Houston, Texas 77063. At UNIDENT, our goal is simple: Provide high quality dental care at affordable prices to Houstonians.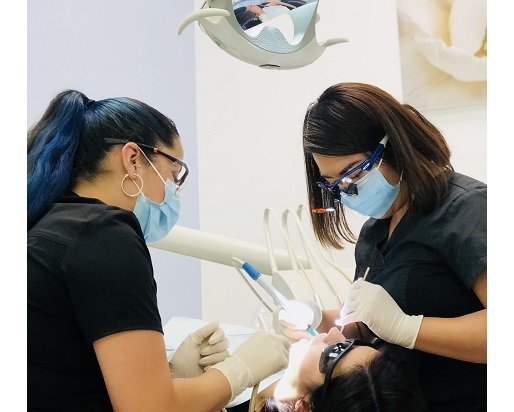 Mission
Houston, TX Dentist
Our Strengths
Houston Family Dentist

Dedicated Personnel with Diverse Expertise
We are a team of professionals with a vision and years of experience. Our dentists and staff have worked at different areas and serve patients in different groups of age. Achieving excellent oral health is easy when you feel comfortable with the dentists who truly care about you.

Top Quality of Customer Service
We believe in "the first 5 seconds impression rule" and understand how sometimes patients may feel uneasy and nervous about their dental visits.We make a difference by providing a friendly, welcoming, relaxing and positive experience with personalized care to make you feel as pleasant and comfortable as possible. Our staff will walk you through every step since you first came into our office to when you are ready to say goodbye till the next time you see us.

Affordable and Convenient Dental Care
We provide top quality dental services and lastest advances in dentistry at affordable price. We understand that dental health cost sometimes can be higher than expected. Unident Family Dentistry is working our best to compromise with patients' financial situation.
Our Houston Dental News
Houston Family Dentist
In addition to boosting self-esteem, a brilliant grin is a sign of ideal oral health. Your smile talks a thousand words, so it's important to […]
Read More
3730 S. Gessner Rd, Ste. C-100, Houston, TX 77063 (Westchase area)
Hours may change during the Holidays
Monday
11:00AM - 6:00PM
Tuesday
9:00AM - 5:00PM
Wednesday
11:00AM - 2:00PM
Thursday
11:00AM - 6:00PM
Friday
11:00AM - 3:00PM
Saturday
9:00AM - 3:00PM
Sunday
9:00AM - 3:00PM
3730 S. Gessner Rd, Ste. C-100, Houston, TX 77063 (Westchase area)